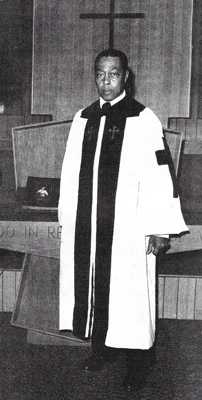 New Providence Baptist Church was organized by
Reverend Clarence E. Scott
in April, 1945, in the Presbyterian Church at 19th and Connnecticut Streets in San Francisco. From there, the church moved to One Kohala Road, while Pastor Scott continured to preach the gospel and win souls for Christ. The church moved from One Kohala Road to Divisadero and Geary Streets, using the Hall of the Most Worshipful Sons of Light-AF&AM, and several years later, the church relocated to Bush and Laguna Streets. Pastor Scott and the membership never became discouraged when they had to move from one location to another. They continued fighting on the battlefield for the Lord. The church again relocated to 1408 O'Farrell Street, which was completely remodeled into a beautiful church.
Once again, the church had to move due to redevelopment. The new site located was at 309 Lyon St., where New Providence remained for several years. Pastor Scott always dreamed of someday erecting a beautiful edifice, and with the help of God and the support of the faithful members, his dream was realized when, in 1974, he marched to the present site at 218 Granada. Pastor Scott continued winning souls for Christ, and the membership at New Providence continued to grow. Eventually, the membership outgrew that church home, and wih God's blessing and the overwhelming support of the entire membership, New Providence was again completely remodeled. The Leanna Mattox social hall was once the sanctuary.
In October 1988, Pastor Scott and the entire membership marched from the temporary location into the current beautiful building. Pastor Scott's dream was once again realized. With the help of the members, the church has continued to flourish, installing stained glass windows, obtaining furniture for the classrooms, completing a church library and recently installing the ceiling fans and chandiler.
In Octorber 1995, the church's million dollar mortgage was burned. Praise the Lord! New Providence continues to strive for beautifying the edifice, where the number one goal is serving our Lord and Master.
As the Chruch continued fighting on God's battlefield; the Lord looked in New Providence on October 23, 1998 and called his servant Pastor, Founder, Clarence E. Scott of 53 years, home from labor in reward. The joy of Pastor Scott's service on earth was serving the proud Pastor and Founder of New Providence. He always had the church at heart and 19 days prior to his death, recommended that the church accept Rev. Michael Gilmore as the next Pastor upon his death. On March 29, 1999, Rev. Michael Gilmore was installed as Pastor of New Providence.